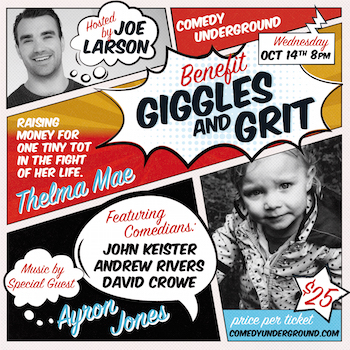 Comedian Joe Larson Hosts First Annual "Giggles & Grit" Benefit
A night of comedy and music benefiting two year old battling a rare and aggressive cancer.
SEATTLE, Sept. 28, 2015– The Giggles & Grit Benefit will raise monies to aid families that have had to relocate due to their child's need for treatment at a major hospital. The first annual Giggles & Grit Benefit is Wednesday, 10/14/15 8pm at the Seattle Comedy Underground located at 109 S Washington St, Seattle, WA 98104. Ticket price is $25.00 and all proceeds will go to Thelma Mae's family who upon the 2 year old's diagnosis of a very rare form of cancer had to uproot their family and temporarily move to Seattle for the 9 month duration of their daughters treatment.
The event will feature prominent standup comedians including the hilarious David Crowe (Showtime, Comedy Central), legendary Seattle personality John Keister (Almost Live), local boy Andrew Rivers (The 206, FOX Network) and hosted by Joe Larson (currently starring in Babies Behaving Badly on Discovery Family). There will be acoustic set by special guest Ayron Jones.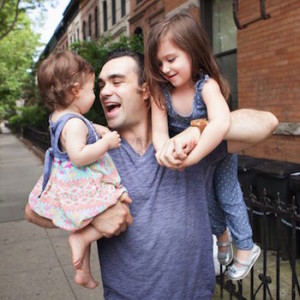 Host Joe Larson (Discovery Family, FOX, The Tonight Show's Laugh Squad) says "As a father of two young daughters, my heart goes out to any parent struggling to care for their family, hopefully sustaining their current employment, all the while doing anything necessary to get a sick child the care they need" . Joe Larson added, "This benefit was founded when I heard about little Thelma, whose mother is a childhood friend of my wife. I wanted to do some small part to ease their burden. Giggles & Grit will be an annual event sponsoring families like Thelma's every year."
Tickets go on sale on 9/28/2015 and can be reserved by calling The Seattle Comedy Underground at (206) 628-0303 or online at www.comedyunderground.com.
Donations can also be made at www.gofundme.com/prayforthelmamae.
Joe Larson
www.joelarsoncomedy.com – for stand up
www.manwithababy.com – I am not a dad, I am a Man with a Baby!
646.421.7181