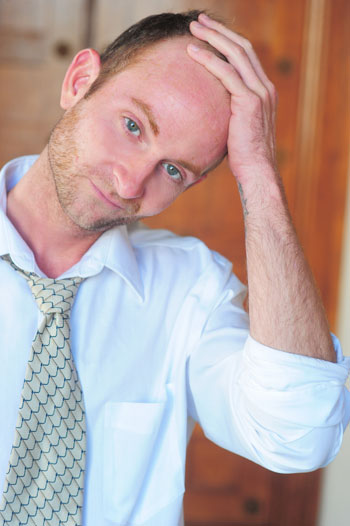 The Comedy Underground is pleased to announce that once again we have partnered with Uproar Entertainment for a comedy album recording with Erik Myers at the Seattle Comedy Underground July 31 to August 2, 2014.
Erik's TV special, Dopeless Romantic has been extremely well received and we are excited to see what he brings to the Comedy Underground.
Erik Myers is a high energy comedian with a machine gun delivery that has been entertaining crowds with his stories about getting sober, bad jobs and bad dates all over the country for the past 13 years.
Born and raised in Maryland, Erik Myers grew up watching Saturday Night Live and dreaming of one day being a comedian. His very first Stand Up performance was during a second grade show and tell where he used a stuffed animal prop. All of the kids loved it! Officially, Erik started his comedy career thirteen years ago with a performance at Winchesters Pub in Baltimore, Maryland. Since then he has performed in over 35 states across America. His comedy has been described as Rodney Dangerfield meets Sam Kinison.
Erik Myers has opened for some of the biggest names in comedy, including Mitch Hedberg, Daniel Tosh, Pablo Francisco and Louis CK. He is the winner of the 2005 Funniest Person in Baltimore Contest, 2nd Runner Up in the 2006 Funniest Comedian in DC Contest and he won the 2012 Florida's Funniest Comedian Contest. He recently filmed his first TV appearance in Gotham Comedy Live on AXS TV. Some of Myers' early influences include Sam Kinison, Bill Hicks, Eddie Murphy, Jim Carry, Adam Sandler, and Chris Farley. Once Myers got started in comedy, he became addicted. "It was all he ever wanted to do!"
About Uproar
Uproar Entertainment is committed to recording comedy albums and promoting today's most talented comedians. From discovery at comedy festivals throughout the country (where Uproar gives a recording contract to the winners), to state of the art recording live in top comedy clubs, Uproar nurtures, supports and develops the best comedic talents of our time. Our unique catalog boasts seasoned veterans of the stand-up comedy world such as Brian Regan, Bobby Collins, John Pinette, Alonzo Bodden, Margaret Cho, Pablo Francisco, Suzanne Westenhoefer, and Scott Kennedy among others, as well as up-and-comers Tyler Boeh, John Moses, AJ Finney, Andrew Norelli, and Kabir Singh, just to name a few.
Uproar continues to turn to Comedy Underground as their go-to club for comedy album recordings. Recent comics recording here include Joe Larson, Matt McClowry, Felicia Michaels, Jen Murphy, Andrew Norelli, Joe Fontenot, Robert Duchaine, Saleem, Sadiki Fuller, Simon King, Tyler Boeh and more on the way.