The Comedy Underground is pleased to announce that Aaron Kirby is recording a comedy album at our club.
Aaron Kirby has made a name for himself around the Pacific Northwest with his charismatic, upbeat style and playful delivery. Kirby can be seen all across the Northwest and can be seen regularly at The Seattle Comedy Underground. Kirby is a featured comic on rooftopcomedy.com and can be heard on Sirius XM radio. He also made his network television debut in November 2014 when he was featured on Laughs on Fox.
As a broadcaster and event correspondent for GameStop Inc.'s GameStop TV, he did everything from in-studio work to reporting from trade shows such as ComiCon. He has been able to interview some of the industry's best talents, such as Chris Parnell, Mark Hamill, and Bruce Willis. As the red carpet correspondent at the 2010 and 2011 Video Game Awards, Kirby interviewed the best actors, designers, and producers in the business.
Kirby hosts a podcast with his co-host Casey Mclain, who he hates very much. The Offspeed Podcast is a sports focused podcast which is infused with humor and hilarious banter between the hosts. They have had famous comedians, athletes and front office executives as guests. You can find The Offspeed Podcast on iTunes, Stichr and www.theoffspeedpodcast.com.
Kirby also can be found on Twitch.tv as part of the Hyper RPG team. He hosts 2 shows and is apart of a 3rd. WTF Is This airs Mondays at 3pm PST. He plays eccentric games and finds what makes them fun. Trivia Hops airs Mondays at 7pm and is a bar trivia game. Future/Retro airs on Tuesdays at 3pm PST. The first hour looks into the future of gaming while the second hour jumps into the past.
http://therealkirby.com
@therealKirby
Wilfred Padua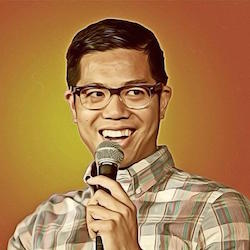 Wilfred Padua is a comedian from Seattle who has an MFA in Writing from some school in Chicago. He has performed at Bumbershoot, Bridgetown Comedy Festival, the Boring Time Comedy Festival, and Summer Meltdown Music Festival.
He's usually an idiot.
http://wilfredpadua.com
@wilfredpadua
Comedy Recording Session
Comedy Underground is proud to be the default place comedians from around the country come to record a comedy album. We think it speaks to our fantastic fan base. Recent albums include Jen Murphy, Brett Hamil, Travis 'The Big Funny' Simmons and most recently, Scott Losse (still in production). Come out and support live comedy!