Come on out and get your laugh on! The lion's share of this installment of Brett's monthly show, Bundt Cake, will benefit Seattle Humane: The Humane Society for Seattle/King County's urgent medical care programs for dogs and cats.
This show features Brett Hamil, Emmett Montgomery, Scott Losse, Mike Masilotti, Chris Moran plus special surprise guests!
If you can't come to the show, you can still support Seattle Humane Society by making a donation: http://www.gofundme.com/humanelove
The opportunity:
Brett Hamil has spent the last year getting familiar with animal welfare organizations and shelters here and around the world. There are a lot of things that make Seattle Humane top-notch awesome: As a no-kill shelter, they do whatever it takes to treat, rehabilitate, train and place dogs and cats in their forever homes. With a powerful and dedicated volunteer corps, they're able to put 80 cents of every dollar directly toward care for animals. They offer foster care, behavior rehabilitation, socialization, disaster relief, and end-of-life services. They've even got a pet therapy for humans like us when we're sick.
The more Brett Hamil learns about Seattle Humane, the more he is impressed and touched by their work to ensure that every animal gets adopted. Each animal receives, on average, over $520 in services and care. More than $200 of that goes to medical care. And even more for many, like his dog Merle, who received extensive dental work, surgery to remove back tumors, and a warm place to heal for three months before we ever laid eyes on him. When Brett was able to bring Merle to his new home, the Seattle Humane Society brought him around so all the staff and volunteers could say goodbye – he was clearly loved.
Let's raise some good hard cash for those sweet loves out there who need our help!
All About Bundt Cake
Bundt Cake is a carefully curated snapshot of Seattle's sprawling standup scene featuring only the best emerging and established comics and sprinkled with sketches, storytelling, videos, and other amusements. Like a bundt cake, the form is instantly familiar but the ingredients can vary wildly. Expect smart, progressive comedy and not a clunker in the bunch.
This month Bundt Cake includes Brett Hamil, Emmett Montgomery, Scott Losse, Mike Masilotti, Chris Moran plus special surprise guests!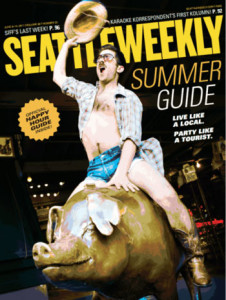 About Brett Hamil
Brett Hamil has been performing and producing shows in the Seattle comedy scene for the better part of a decade. The Stranger called him, "a truly treasured ham."
He's also a filmmaker, cartoonist, and writer. He pens a monthly humor column for City Arts magazine.