Comics Sans Pants features some of the Pacific Northwest's finest comedians performing their best comedy, without the tyranny of pants.
Comedians Anica Cihla (Seattle International Comedy Competition), Luke Severeid, Nick Decktor, Sally Jordan, Matthew Valdespino, Josh Gibson and Hope Linden (Loudmouth C*nts).
Hosted by HIGHlarious Comedy Festival's Patrick Higgins bare it all (almost) to bring you laughs.
About Patrick Higgins
Winner of the 2012 Tri-City Joke Off, Patrick Higgins is an East Coast transplant who has performed all along the West Coast including Portland, Los Angeles, Tacoma, Seattle and the Great In-Between.
Anica Cihla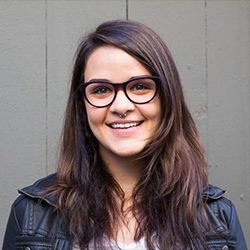 Born and raised in Wisconsin, Anica began her comedy career in the back of a Thai restaurant in Seattle, WA. So she's pretty much got this multiculturalism thing on lockdown. Anica's comedy is an approachable blend of pop culture references, chemistry puns, and self-deprecating anecdotes. She has spread her love of language and Game of Thrones all along the west coast, having performed in Seattle, Portland, Santa Cruz, Sacramento, and San Francisco.
Anica's comedy has been described as "smart and personal," "well-constructed, bait-and-switch jokes," and, "you really talk about incest a lot." Anica has performed in the Redwood Comedy Festival and the HIGHlarious Comedy Festival, and one time performed in the back of a defunct sex shop in a strip mall in Las Vegas.
Luke Severeid
Luke Severeid, a Tacoma-based Pacific Northwest native, is well-versed in the art of beards, flannels, and having a very reflective forehead.
Despite his gruff exterior, Luke is not as much of a meanie as you would think. Using a blend of outraged observations and relatable, self-deprecating anecdotes he'll easily find something that you can share a laugh about. He is a man of many talents, the primary being his ability to puke on everyone and everything he holds dear. He recommends you don't become too good of friends. Luke has performed at Bumbershoot and can be seen regularly at Tacoma Comedy Club.
He hopes you're having a nice day.