A female identifying showcase featuring Liz Donehue, Andy Iwancio, Hope Linden, Cheri Hagan Hardman and Shannon Koyano.
Andy Iwancio
Andy Iwancio is a trans*girl comedian (and sometimes dj). Her wonderfully wordy humor details the trials and tribulations of being transgendered in this modern day. (Also what growing boobs for the first time is like). She can be seen as a regular at the Comedy Womb, I'mma Let You Finish, and has opened for comedians such as Karinda Dobbins, Rye Silverman, and James Adomian.
@kidamiga
Liz Donehue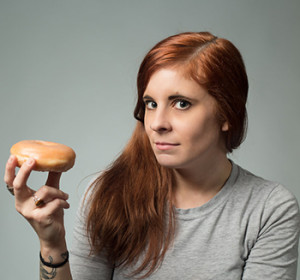 Liz Donehue grew up in Seattle, where she realized she wanted to do more with her Creative Writing degree than sleep on her mom's couch and watch reruns of Ghost Adventures. After relocating to Minneapolis in 2011, she began shaping her edgy and assertive style of comedy at Acme Comedy Company and the Comedy Corner Underground. One year after stepping on stage for the first time, Liz was voted a finalist in the "Funniest Person in the Twin Cities" contest for her sharp, percipient humor and clever writing.