Since abandoning his successful pizza delivery career in 2000, Gabriel Rutledge has taken raw talent, hard work, and lack of a fall back plan have made him into one of North America's finest touring comics.
A past winner of the prestigious Seattle International Comedy Competition, Gabriel Rutledge has made television appearances on Comedy Central's Live at Gotham, the nationally syndicated Comedy.TV, and Nickelodeon's Nickmom Night Out.
He is also a frequent guest on the Bob and Tom radio show, heard in over 150 cities.
Gabriel has performed at the HBO/TBS Comedy Festival in Las Vegas, the Laughing Skull Comedy Festival in Atlanta, and The Great American Comedy Festival held in Johnny Carson's home town of Norfolk Nebraska.
He has made at least 4 people pee their pants.
Gabriel's has released two albums; "Sometimes Laughter Hurts" and "Breeder" that can be heard on Sirius Satellite Radio, 24/7 Comedy Radio, and wherever you want if you buy one. Rutledge makes his home in one of the great entertainment capitals of the world; Olympia Washington.
Andrew Rivers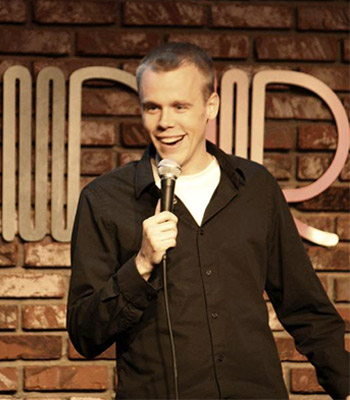 Andrew Rivers is one the nation's finest young comedians according to his mother, but she wishes he would stop doing jokes about her.
Andrew is consistently touring the country and racking up miles on his big comfy tour bus (a Toyota Corolla.) Andrew and his car were even featured in a commercial for Toyota. He was voted as a finalist in several comedy competitions (always the bridesmaid) and he makes regular appearances on The Bob & Tom Show which is syndicated to more than 130 stations nation wide!
Opening for comedians like Christopher Titus, Mike Birbiglia, and Billy Gardell, Andrew's very personal and fun storytelling comedy, combined with his exemplary work ethic has earned him high praise from some of the best comedians in the business. You don't want to miss this show.