Geoff Tate is most likely watching "Cheers" right now. A Cincinnati-based comedian, he has appeared on The Late Late Show with Craig Ferguson, and is regular opener for Doug Benson and Doug Stanhope.
Geoff made his television debut on Comedy Central's Live at Gotham, and is a regular on Doug Loves Movies, as well as Getting Doug with High. He has performed at music and comedy festivals like Bonnaroo, South by Southwest, Limestone and he has two albums available at the Doug Stanhope store.
Geoff is the host of the popular geofftate's MSHD PODCASTO, in which he discusses topical Cheers-related issues, gets his dad to try things, talks to people he graduated with, forces Emma Arnold to host her own show and just has a good time.
http://www.justanotherclown.com


Emma Arnold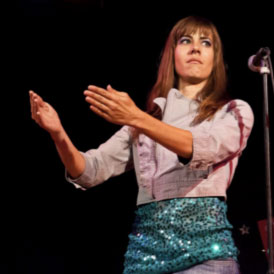 Described as "outrageous and hilarious", Emma Arnold is a comedian, author, and beekeeper. She publishes narrative nonfiction with Exciting Press, is a return guest on Doug Loves Movies.
Emma has performed at numerous comedy festivals, including the Limestone, Laugh Your Asheville Off, Pittsburgh, SheDot, and Great American. The other day, she saw an old woman apologize to, and then thank, an automatic door, and realized she was looking at her future.
When not touring, Emma lives in Idaho with her family, where she keeps children and bees with varying degrees of success.