Comedian Kristin Key is best known for being a season favorite on NBC's "Last Comic Standing" season 4. She has also been featured on Comics Unleashed, The Bob and Tom Show, The Las Vegas Comedy Festival and appears regularly on VH1's "100 Greatest" series.
Kristin got her comedy start in the small west Texas town of Amarillo when she was still a teen. She seemed like any other sweet well-behaved preacher's daughter…until she opened her mouth. Now, based in LA, Kristin Key's show is fast paced, quick-witted, and fearless. With the blend of music, comedy, and her spontaneous sense of humor anything can happen and no two shows are the same.
"Perfect delivery." – Gary Marshall Last Comic Standing Celebrity Judge
"Hilarious! She's not afraid to improvise." – Colorado Springs Independent
"Kristin Key is funny and very original"– TheSeriousComedySite.com
Drew Barth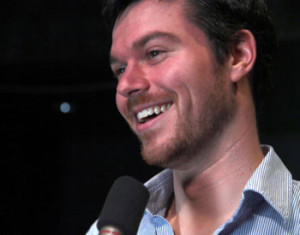 Drew Barth is one of the fastest rising comedy stars in the Northwest.
Born just outside the city of Seattle, what started as a dare in high school has become a full time career.
Drew Barth has risen through the ranks of local open mics to become a regular performer at comedy clubs, colleges, casinos and private events up and down the West Coast.
After making the finals of the Seattle International Comedy Competition, Drew Barth spent a great deal of time in Los Angeles performing at clubs such as The Comedy Store, Laugh Factory, and The Improv, honing his craft.