Laurie Kilmartin is an Emmy-nominated writer for CONAN on TBS, and, as a stand-up comedian, has appeared on CONAN, Last Comic Standing, Jimmy Kimmel Live, and Comedy Central. Her book, Shitty Mom, was a NY Times bestseller.
In November, she taped her first comedy special, 45 Jokes About My Dead Dad.
Laurie Kilmartin spent her first 10 years as a standup in San Francisco, the second 10 in New York City and now lives in LA. She currently writes for CONAN on TBS. When home in LA, Laurie does standup about 3-4 times a week. She uses her 10 hiatus weeks each year to go back on the road. Recent headlining dates include Acme Comedy Club in Minneapolis, The Punchline in San Francisco, Rooster T Feathers in Sunnyvale, The Laughing Skull in Atlanta, Cap City Comedy Club in Austin, The Comedy Underground in Seattle, and pretty much every gig in Arizona.
Christian Spicer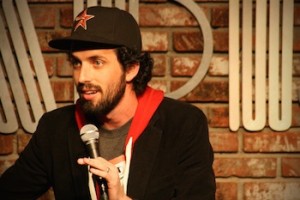 Christian Spicer plays video games, likes comic books, does stand up, does improv, and acts. He also graduated at the top of his law-school class and worked for one of the most prestigious law firms in the country before he quit practicing law and decided to write, do comedy, play video games, read comic books, and so on. Christian wrote for the 2012 CBS Diversity Showcase and his sketches have been featured on the front page of Reddit, Funny or Die, and on popular video-game sites Kotaku and Joystiq. He performs new sketches every month at SketchMelt and works out even more new sketches at shows like UCB's own Not Too Shabby. He also has written pilots that people (some of whom are important industry people) seem to like.
You can hear him as a regular guest on the video-game podcast Weekend Confirmed about once a month and every week on his own podcast, Uninformed Opinions, which he co-hosts with Stewart Nacht. Christian is also the co-host of the show Double Jump (currently in production to come to viewers across the country, release and more info soon) and IMPRO(vs)TANDUP, the hit monthly show at the Los Angeles Upright Citizens Brigade Theatre (with appearances at the Chelsea, New York Upright Citizens Brigade Theatre and at festivals across the US too). It's super fun and you should totally go.