Liz Miele, originally from New Jersey, started doing stand-up at 16 in New York City.
At 18 she was profiled in The New Yorker Magazine, at 22 she appeared on Comedy Central's "Live at Gotham." She recently appeared on AXS TV's "Gotham Comedy Live" and profiled in the March 2015 issue of Runner's World. She regularly tours with the "Nobodies of Comedy" and Armed Forces Entertainment and just finished performing on a book tour for Chris McDougall, author of "Born to Run."
Her joke "Feminist Sex positions" went viral both on YouTube and Upworthy.com. She just completed writing and producing season one of her animated web series "Damaged," voiced by great comics including, Maz Jobrani, Hari Kondabolu, Ted Alexandro, Dean Edwards, DC Benny, Joe Machi and so many more. She also co-produced and co-starred in 40 episodes of a web series called "Apt C3" with fellow comic, Carmen Lynch and fashion photographer, Chris Vongsawat.
Liz recently released her debut comedy album, "Emotionally Exhausting" on iTunes and Amazon.
For more info visit her web site: http://lizmiele.com
About Dash Kwiatkowski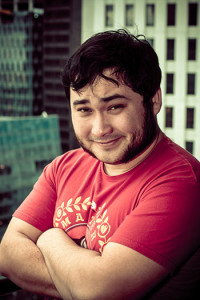 Dash Kwiatkowski is a chubby nerd. He's into comic books and jokes.
Dash can be seen at San Francisco Bay Area comedy clubs such as San Francisco Punch Line, the Sacramento Punch Line, and Cobbs Comedy club, Rooster T. Feathers, The Comedy Attic. His writing has been featured in Savage Henry Independent Times, and he has participated in the Savage Henry Comedy Festival, and the San Francisco Comedy Competition 2015.
He's also been featured in San Francisco Sketchfest three four in a row, Limestone Comedy Festival this year, and the Laugh Your Asheville Off Festival. He's really into Dim Sum.
He has dope sideburns, but it's not a Wolverine thing, so be cool about it.