With his towering frame, faintly sinister good looks, and a mild case of Asperger syndrome, Matt McClowry does not easily fit the stereotypical image of a stand-up comic. But after a few moments of watching him on stage, it's clear he's a natural; with a laconic yet still faintly annoyed delivery underscoring sharply observed gripes about a host of modern absurdities.
Originally from Detroit where he was voted "Best Local Comic" by the Metro Times, Matt now making his home in New York City, and has been receiving national exposure, touring coast to coast as well as posting appearances at many prestigious comedy festivals, like the Oddball Comedy & Curiosity Festival with Dave Chappelle, and racking up contest victories at the Laughing Skull Comedy Festival in Atlanta as well the World Series of Comedy in Las Vegas.
He has appeared on the AXS TV series "Gotham Comedy Live" and his album, "Uncomfortable," can be heard on Pandora, Spotify, and SiriusXM. The album was recorded live at the Seattle Comedy Underground.


"Matt McClowry is a tall, clean-cut comedian out of Detroit. His standup is smart and analytical, full of unexpected leaps of logic, and delivered in a deep, distinctive deadpan. He's funny and engaging."
– Brett Hamil, CityArts
http://mattmcclowry.com
@mattmcclowry
http://facebook.com/mattmcclowry
http://youtube.com/mattmcclowry
Nigel Larson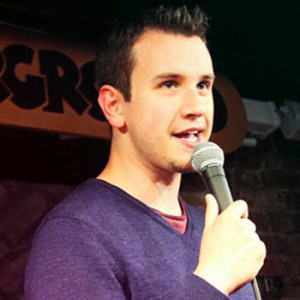 Nigel Larson is one of the fresh faces coming out of the blossoming Seattle comedy scene! Originally from upstate New York, Nigel gained some local notoriety back home when he was covered by the Rochester Metromix paper, Insider. First being named "top 5 funniest in Rochester under 30″ and then was on the cover as, "the face of Rochester comedy," in 2010. After relocating to the Puget Sound, Nigel hit the ground running being hired as the house emcee at half the local clubs for his clean and clever act. Nigel can be seen doing local commercials airing on A&E and the Food Network, or opening for such National acts as Tommy Johnagin, Jake Johannsen, Myq Kaplan, Jimmy Dore, Kyle Cease, Jon Dore, Tom Rhodes and many more!
Nigel has the kind of act that grabs the attention of the drunk, indifferent crowds of a bar, yet is intellectually satiating for the audiences of a college. He gets on stage with a cool, relaxed, comfort that puts everyone at ease. With his boyish good looks and an affable demeanor that belies his clever wit, Nigel is often a pleasant surprise. Using a conversational style to blend smart jokes and honest stories, Nigel often makes on-stage success from real life failures. All with a natural sense of timing and rhythm that he must have picked up from years of being a hard rock drummer. Covering topics from taking care of his grandparents, his fears of getting sick, and his miscommunications with strangers, Nigel is equal parts confident, vulnerable, and funny!