Comedian Michael Malone is a larger than life performer who delivers heavy-hitting punchlines with the weight of a veteran and the heat reserved only for the country's hottest up and coming comics.
Known best for his top-10 selling comedy album debut on iTunes and "rubber face," Malone is a force to reckon with in the comedy world. His blistering humor and irreverent views on life, love and personal tragedy have earned him recognitions such as Campus Activities Magazine's Top Comedy Performer of 2013 and "Hot Comic to Watch in 2013" and winner of the prestigious 33rd Annual Seattle International Comedy Competition in 2012.
Michael Malone been featured on the Bob and Tom Radio and TV, made appearances on WGN TV, National Lampoon's Operation Comedy Tour, NBC TV, XM Sirius Satellite radio and the CW. He also has two top-ten selling comedy albums on iTunes. Check out www.MaloneComedy.com for videos, tour dates, and tons of exclusive content.


Heather Thomson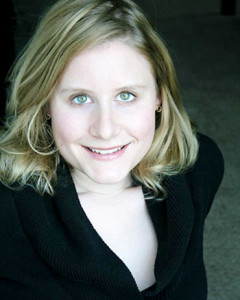 A classically trained actress and gifted comedian, Heather Thomson has the kind of performance skills that make you wonder, "Is that girl acting or just crying in public?"
In 2005, she moved to Los Angeles and started performing stand up nightly. Her uniquely honest, tender and endearing presence on stage quickly earned her the nickname, "The Sweetheart of Stand Up." In 2008 she won Best New Comer at the Southern California Comedy Scoomie Awards, and went on to win Most Adorable Comic the following year (yes, that is a real award and I took it by a landslide, thank you. Oh sorry, third person.)
She is also the winner of the That's the Light Comedy Competition, and a finalist in Uncle Clyde's and H2F's comedy competitions. Among many other venues, she has performed at the Hollywood Improv, the Upright Citizens Brigade Theatre, The Comedy Store, The Comedy Studio in Boston and with the People's Republic of Komedy in Seattle. She has also studied Improv with the Upright Citizens Brigade Theatre and the world famous Groundlings.
Frequently raw, poignant, sad, sweet, honest and hilarious, her act recently prompted one fan to ask, "You're really funny. Are you o.k.?" Heather is great, but she's so glad you're here to listen.