Given his penchant toward brutal honesty, spiced up with a healthy dose of insatiable wit, it's not difficult to see why Mike Stanley was named "Best Chicago Stand-up Comedian" in a Peoples Choice poll done by the Chicago Reader. Mike was ranked Top 10 of the best comedians in Chicago by a poll on Comedy.com.
Originally hailing from Detroit, and after spending a decade honing his craft in the Windy City of Chicago, Mike tours constantly, both domestically and internationally.
Don't miss out on an incredible opportunity to catch the man in action – this high level of killer stand-up is too remarkable to sit out.
https://www.facebook.com/MikeStanleyComedian
@Mikestanley1
Nate Ambruster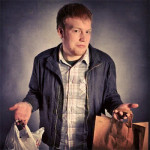 Nate Armbruster is a fast rising comedian from Detroit, Michigan. He has been winning over audiences since the ripe age of 16. His quick wit, subtle humor, and laid back, charismatic, style guarantees for a great show and has earned him a spot at comedy festivals such as Gilda's Laugh Fest and The World Series of Comedy in Las Vegas.
https://www.facebook.com/natecomedy/
@natecomedy