Myles Weber has an addiction to stand-Up comedy that started very early in life. By the time he was eight years old, he was sneaking out of his bed at night to watch any standup comedy show he could find on cable. He even tried his hand at comedy in front of a live, supportive audience… the parents at his elementary school talent show. He says "I won the whole thing, mainly because I was the only fifth grader that wasn't singing 'Living La Vida Loca' or 'What A Girl Wants.'"
At that moment, Myles committed his life to making people laugh.
Since that momentous talent show, Myles Weber has been showcasing at, placing and winning comedy competitions all over the country. Myles took first place in the 40th Annual San Francisco International Comedy Competition. (Past competitors include Robin Williams, Dana Carvey, Sinbad, Ellen Degeneres, Louis CK, Patton Oswald, Marc Maron, Doug Stanhope and Dane Cook.)
Adaptable to any environment, Weber is a national headliner at clubs, colleges, corporate events, festivals, restaurants, bars and even once recently in a living room for six people.
You may have seen Mr. Weber as the affable Network Host for Portico TV Or maybe you've seen him as a correspondent for Popular Science, one of the biggest science websites in the world. Also an up and coming comedy writer, Myles wrote for Portico and Smosh Pit Weekly on Smosh's YouTube Channel. (The biggest gaming channel in the world.)
Whether delivering razor sharp jokes or working the crowd like Bob Ross works a canvas, Myles makes no mistakes, just happy accidents. And if his reputation is any indication, you will probably have a happy accident in your pants.
Pat Burtscher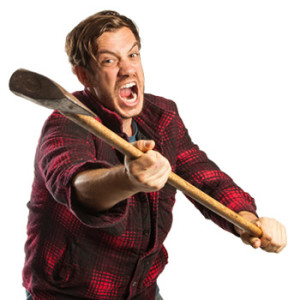 Since 2009, Canadian comedian Pat Burtscher has been touring the globe with a pocket full of ideas, a brain full of questions and a heart full of love. His unique capacity for reducing the universal to the personal (as well as his ability to spend an entire show reducing a heckler to dust) has earned him critical acclaim and recognition as one of the most exciting stand ups working on the international fringe circuit today.
Preoccupied by the big questions and overwhelmed by the complexities of the universe, Burtscher delivers a set that is as erratic, earnest and engaged as it is funny.