Nathan Brannon is a comedian out of Portland, Oregon, who is consistently adding to his list of accomplishments year after year. Just a month into 2016, Nathan recorded his second comedy album, "Because" with Kill Rock Stars Recording, which was released October 14. He also signed with Kill Rock Stars in 2015. Nathan was the winner of the Seattle International Comedy Competition in 2014, voted into the Willamette Week's "Portland's Funniest 5" in 2013 while releasing his first comedy album "I Black Out" that same year, and was crowned "Portland's Funniest Person" in 2012.
Nathan has been featured on NPR "Weekend Edition" and "Laughs" on Fox. Nathan has also opened for national headliners such as Dave Chappelle, Damon Wayans, Maria Bamford, and has photoshopped himself into photos with many more. Currently, Nathan is seeking a funnier way to end this paragraph.
www.nathanbrannon.com
@nathanbrannon
https://www.facebook.com/nbrannon
Andrew Rivers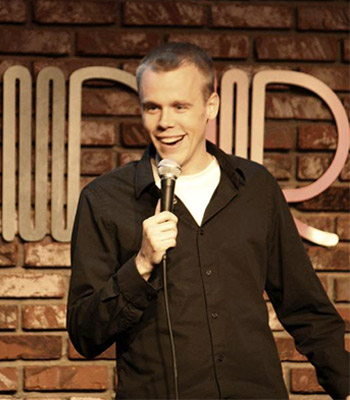 Andrew Rivers has a very personal and fun storytelling style of comedy, combined with his exemplary work ethic has earned him high praise from some of the best comedians in the business. Andrew is a featured writer, actor and comedian on the TV show "UpLate NW." Andrew has been featured on NBC, FOX, and the Bob & Tom Radio Show and is a regular opening act for Christopher Titus.
Andrew was also featured on the popular Buzzfeed webseries "Truth or Drink", has performed in over 35 states and his new podcast called "Don't Quit Your Night Job" was featured in the Seattle Times.