What if Stand Up Comedy and Tourettes Syndrome met face to face? Meet Samuel J Comroe a young brave comedian who shares his trials and tribulations about living with Tourettes Syndrome and turns them into an unforgettable Stand up comedy set. He's Funny, energetic and vibrant.
Samuel is house regular at comedy clubs around his native Los Angeles such as Flappers, Ice House and the Improv. He's growing in popularity outside of Los Angeles, traveling regularly to perform his comedy at venues all over the nation.
Samuel J Comroe was the winner of the 38th Annual San Francisco Comedy Competition. Most recently, Samuel placed in the top eight out of one-hundred and one comics at the World Series of Comedy in Las Vegas. He was a Top Ten Finalist in the NBC Stand-Up for Diversity showcase.
He is now opening for comedians such as Joey Medina, Tom Green, Gallagher, Don Friesen and James P Connolly, just to name a few. He is one of the most energetic, engaging and friendly up and coming comedians.
http://samueljcomroe.com
https://twitter.com/SamuelJComroe
Keenan Baker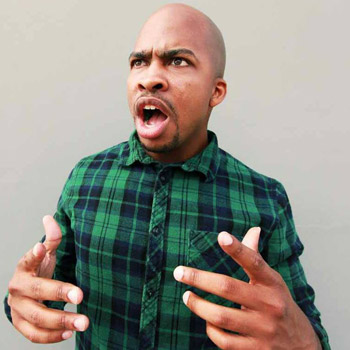 Keenan Baker grew up a military brat with a strict military father. How strict? Keenan's father locked him out of the house for losing fights and wouldn't let him back into the house until he won the fights, because that was his fathers rule.
Keenan got his start in comedy back in 2008. In 2011 Keenan Placed 2nd in The Los Angeles Funniest Comedy competition. Keenan performs at The World Famous Comedy Store, The Laugh Factory, The Improv Comedy Club, Flappers Comedy Club and multiple venues across the nation.
Keenan's energetic styles brings life to the stage and laughter to the crowd.
@Keenan_Baker