What if Stand Up Comedy and Tourettes Syndrome met face to face? Meet Samuel J Comroe a young brave comedian who shares his trials and tribulations about living with Tourettes Syndrome and turns them into an unforgettable Stand up comedy set. Funny, energetic and vibrant.
Scott Losse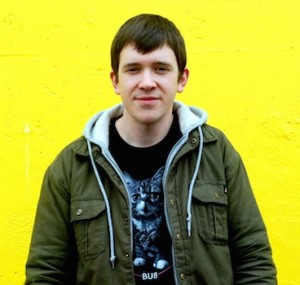 Scott Losse is a stand-up comedian and Chihuahua owner from Seattle, Washington. He is wearing a shirt with a cat on the front. That's kind of confusing considering the first sentence called him a Chihuahua owner. Scott kind of does what he wants.
Scott has performed at The Bridgetown Comedy Festival, SF Sketchfest, Sketchfest Seattle, Bumbershoot: Seattle's Music & Arts Festival and lots of other places that aren't festivals. Clubs. Colleges. Elks Lodges. Scott was the winner of the 2013 NW Comedy Competition and a semi-finalist in the 2014 Seattle International Comedy Competition. He has not competed comedically in 2015.
Scott Losse has appeared on Seattle's Evening Magazine. It's on during Jeopardy, so you probably missed it. No big deal. Scott has opened for Emo Philips and comedians who aren't Emo Philips. Follow Scott on multiple social media platforms.