The 36th Annual Seattle International Comedy Competition is underway! This is the first show of the second week of Preliminaries.
The top 5 comics from the Preliminaries make the semi-finals; all the semi-finalists win some cash, and get to compete for the title by performing for 10 minutes nightly for 5 shows. The rest go home.
On November 9, 2015, the first round of preliminaries ends at Comedy Underground with 15 new comics. See both shows and catch all the talent back-to-back!
On November 22, 2015, The Seattle International Comedy Competition returns for the final show of the Semi-Finals. See the top 10 comics perform longer sets. This show is always one of the most exciting show of the event, since everyone is good enough to make it to the finals, but only five of the comics can advance.
For more information regarding the Seattle International Comedy Competition, visit http://seattlecomedycompetition.org.
Appearing tonight at Comedy Underground:
This show features: Dino Archie, Mitch Burrow, Micah Bleich, Fatima Dhowre, Tony Dijamco, Mary Lou Gamba, Steve Hofstetter, Julie Kim, Hans Kim, Jill Maragos, Chris Moran, Gavin Matts, Elicia Sanchez and Lukas Seely.


Tonight's Emcee: Billy Anderson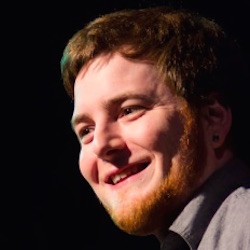 Born in Texas and raised in Augusta, Georgia – Billy Anderson is currently a stand-up comedy orphan living in the city of Seattle, Washington.
He's been seen regionally at SketchFest Seattle, The Washington Comedy Festival, Bumbershoot and was a semi-finalist in the 35th annual Seattle International Comedy Competition. Outside of the Pacific Northwest, Billy has written for Cracked.Com, performed in the Redwood Comedy Festival, LaLaFest Los Angeles, San Francisco International Comedy Competition and as of 2013 he has performed stand-up comedy in every US state.
http://billyanderson.com
https://twitter.com/billyandersonyo
Related Shows:
The Comedy Underground is the only venue where you can catch each week of the Preliminaries and the Semi-Finals.
We suggest buying tickets in advance because these shows sell out.