Laughter, Levity, and Love,
Simon Kaufman returns to the stage of The Comedy Underground five months after breaking his ankle in a freak baseball bat comedy show accident. This time he returns with Komodo Comedy and the forces of good by his side.
Also performing will be Diaz Mackie from Bill Bellamy's "who got Jokes" and also has made multiple t.v. appearances such as on Matthew Perry's new hit show "Go On", Anthony Anderson's new hit show "Guy's With Kids", both on NBC & "Shameless" starring William H. Macy on Showtime, "House of Lies" starring Don Cheadle on Showtime & an episode of "Criminal Minds" Season 8 on CBS. Diaz also just recently finished filming with "Real Rob" with Rob Schneider. That project is due the Summer of 2015.
In addition we have the lovely and always talented Rochelle Briskett Love-Cox as our hostess for the night and doing a stand up comedy set will be Irving Wolf who Simon has known since Elementary school. Therefore we will have not one, but two graduates from the Seattle Hebrew Academy 8th grade class of 1992. (who else can say that?)
We will be hosting an after party for all show attendees for drinks, play, fun, and frolic.
So get your babysitters lined up and call your bosses ahead of time to let them know you'll be hanging at the comedy show and will be late for work.
More information: https://www.facebook.com/events/1591075297819563/
About Simon Kaufman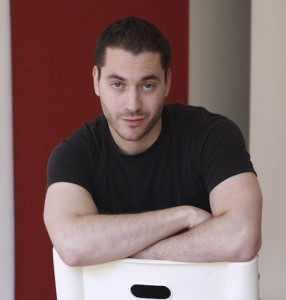 Simon Kaufman is a 4th generation comedic actor tracing his roots back to vaudeville, Yiddish theater, and the early days of Broadway. It's the family business. It's pretty much in the blood. Simon went through extensive comedic academic training at an early age involving being kicked off and banned from the school bus in the 7th grade, expelled from the Seattle Hebrew Academy in the 8th grade, Expelled from Yeshiva high school in the 9th grade, kicked out of overnight Jewish summer camp as well as Jewish temple day camp while solidifying his status as class clown and resident crack up. Simon set his middle school record for most consecutive days in detention with 16. A record Simon holds today.
Simon grew up in an orthodox Jewish home in an inner city neighborhood. Living in both these worlds has given rise to a very unique comedy style that America is falling in love with. Simon has performed and produced shows at Gotham Comedy Club in New York as well as the historic Ashford and Simpson Sugar bar on the upper West Side. Simon does a style of intelligent humor in a manner that anyone can laugh at and enjoy. His stand up has been featured twice on Comcast cable, and co hosted a comedy talk show on 1300 KKOL in Seattle for two years. He was also on the season four premier of Bravo TV's Millionaire Matchmaker.


All shows in June-July are 21 and over.