The Comedy Underground presents a showcase with some of Seattle's best comedians! Featuring Scott Losse (San Francisco Sketchfest, Idaho Laugh Fest), Jesse Weyrick (Seattle International Comedy Competition, worked w/ Doug Stanhope), Cameron Mazzuca (Super Secret Show, worked w/ Carlos Mencia) with your hosts, Wilfred Padua (Bumbershoot, Laughing Devil Comedy Festival in NYC) and Brent Flyberg (Summer Meltdown Music Festival, Bridgetown).
All of the proceeds from this show will be donated to the YMCA of Greater Seattle to fund after school programs and summer camps. So come, laugh, and support the kids!
Wilfred Padua is a comedian from Seattle who has an MFA in Writing from some school in Chicago. He has performed at Bumbershoot, Bridgetown Comedy Festival, the Boring Time Comedy Festival, the Laughing Devil Festival in NYC, and Summer Meltdown Music Festival. He's usually an idiot.
https://www.facebook.com/wilfredpadua
@wilfredpadua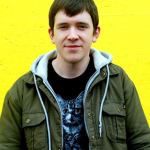 Scott Losse is a stand-up comedian from Seattle, Washington. He has performed at the Bumbershoot Music & Arts Festival, Portland's Bridgetown Comedy Festival, Sketchfest Seattle and other places. His stand-up is smart and absurd. You will probably like it.
The comedy of Brent Flyberg will make you feel good that you're not him. He has performed at Bumbershoot, Summer Meltdown, and the Melbourne International Comedy Festival. He hates wearing pants.