Tyler Smith brings The Dope Show to the Seattle Comedy Underground. This show features some of the finest comedians performing a set completely sober. Then we let them smoke some of the Pacific Northwest's finest cannabis only to come back and perform again, but super high.
This show features Jubal Flagg, Jay Hollingsworth, Jose Balanos, Hans Kim with Tyler Smith.
Jubal Flagg
Jubal Flagg is a standup comedian, radio host, television personality and comedy writer. Known for his quick wit and keen and often strange observations, Jubal has been entertaining audiences on-stage and on the radio for over 10 years. Jubal currently hosts "Brooke and Jubal in the Morning" on MOViN 92.5 in Seattle and can be seen throughout the country as a regular on FOX TV's Dish Nation.
http://www.movin925.com/brooke-jubal-in-the-morning/
http://teamjubal.com
@JubalFlagg
Jose Bolanos
Jose Balanos is known for his crazy stunts, high energy and someone you can always count on for a laugh. Jose draws on his arsenal of impressions and characters, his very unique laugh and positive attitude.
A Tacoma native, Jose decided to try stand-up comedy, and never looked back. Eventually, he crossed paths with Jubal Flagg. Jose opened a few comedy shows for Jubal and developed a comedy relationship. Once a position came open on the radio show, Jubal asked Jose if he wanted to audition, and Jose has been on the show ever since! Jose says, "When you dreams start coming true, no one can bring you down!! Except Jubal…"
https://www.facebook.com/hilariousjose
http://www.movin925.com/author/jose/
Jay Hollingsworth
"Big Irish" Jay Hollingsworth is a stand-up comedian who started in Boston where he was named "Best Comedy Export" by the Boston Examiner. Since leaving Boston, Jay has gone on to win the March Comedy Madness competition as well as being a finalist in multiple comedy competitions including the Manger's Comedy Festival, Bay Area Black Comedy Competition, the Shades of Laughs Comedy Competition and the Bend International Comedy Competition.
Hans Kim
Hans Kim is a Seattle comedian whose comedy style has been described as "interesting" and "nice". He often has the audience smiling at some of his jokes. Hans Kim is a big player on the social networking scene through the website http://www.facebook.com, where he has hundreds of friends.
https://www.facebook.com/hanskimcomedy
https://twitter.com/HansKim5
Tyler Smith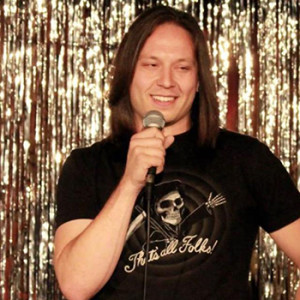 Tyler Smith is a Seattle-based Comedian whose clever humor is gaining attention in the Northwest. He won the Northern Lights comedian competition in 2012 making him officially the funniest medicated comedian in Seattle. He won Comedy on Trial (Seattle) in 2014. He was featured at Bumbershoot three years in a row. Tyler also is the host of the marijuana cooking show "Something's Burning".
In 2015, Tyler was a regional finalist for StandupNBC. Not only a comedian he is also a producer of the Dope Show. The Dope Show being a comedy show where comic perform sober than go get f***ing high and perform all over again. He also is one of the producers for The Highlarious Comedy festival put on in Seattle yearly.
Tyler has been known for his stoner wit, cracking jokes about taboo subjects not just to get a rise out of the audience but to show people how humor can be found in the darkest of topics.