Beloved Seattle comedians/friends/collaborators Emmett Montgomery and Brett Hamil co-headline the Comedy Underground July 17 and 18. Montgomery is a veteran performer and host of the wildly popular monthly variety show Weird and Awesome with Emmett Montgomery. This summer he'll appear on the new season of NBC's Last Comic Standing, premiering July 22. Hamil is a writer, filmmaker, cartoonist and columnist for City Arts Magazine. He's the creator of the crackpot political rant series "My YouTube Channel Where I'm the Big Important Guy Who Gets to Say What's What." Together Montgomery and Hamil join forces for a weekend of sharing, laughter and meaningful glances.
Emmett Montgomery
Emmett Montgomery has accepted to compete in this year's "Last Comic Standing"!
Born in Utah, based in Seattle, Emmett Montgomery is a storyteller, comedian and artist who first found the stand-up stage in 2004 and has been failing beautiful ever since. Emmett has been involved in a lot of things including critically acclaimed comedy collectives, post apocalyptic variety shows, underground wrestling leagues and family friendly comedy nights in pizza restaurants. Mr. Montgomery has been featured the film "Seattle Komedy Documentary", the coffee table book "Seattle 100: a portrait of a city" and multiple festivals including Bumbershoot and the Bridgetown Comedy and Sasquatch festivals. In addition to wandering the country telling jokes he currently curates and hosts a love letter to Seattle in the form of variety show/sharing party entitled "Weird and Awesome with Emmett Montgomery" at the beloved Annex Theatre and is a member of the Seattle chapter of the Bushwick Book Club, a collection of musicians and artists that create and perform original works based on literary sources.
Emmett lives with his beautiful wife and hideous cat in a refurbished motel built specifically for the 1962 Seattle Worlds Fair and enjoys making puppets.
http://www.emmettmontgomery.com
Brett Hamil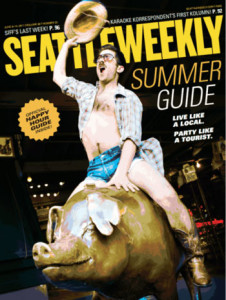 Brett Hamil has been performing and producing shows in the Seattle comedy scene for the better part of a decade. The Stranger called him, "a truly treasured ham."
He's also a filmmaker, cartoonist, and writer. He pens a monthly humor column for City Arts magazine.
http://BrettHamil.com
https://twitter.com/bretthamil
Witty City
With tourists in town in record numbers this summer, we've resolved to expose the vibrant Seattle comedy scene and unique northwest point of view with shows entitled "Witty City." In a tri-headliner format, local talents including Drew Barth, Rick Kunkler, Emmett Montgomery, Brian Moote, Monica Nevi, Kortney Shane Williams and many others will mount the Comedy Underground stage to bring deserved credit to our hilarious home-based talent.