Born in Utah, based in Seattle, Emmett Montgomery is a storyteller, comedian and artist who first found the stand-up stage in 2004 and has been failing beautiful ever since. Emmett has been involved in a lot of things including critically acclaimed comedy collectives, post apocalyptic variety shows, underground wrestling leagues and family friendly comedy nights in pizza restaurants. Mr. Montgomery has been featured the film "Seattle Komedy Documentary", the coffee table book "Seattle 100: a portrait of a city" and multiple festivals including Bumbershoot and the Bridgetown Comedy and Sasquatch festivals. In addition to wandering the country telling jokes he currently curates and hosts a love letter to Seattle in the form of variety show/sharing party entitled "Weird and Awesome with Emmett Montgomery" at the beloved Annex Theatre and is a member of the Seattle chapter of the Bushwick Book Club, a collection of musicians and artists that create and perform original works based on literary sources.
Emmett lives with his beautiful wife and hideous cat in a refurbished motel built specifically for the 1962 Seattle Worlds Fair and enjoys making puppets.
http://www.emmettmontgomery.com
Kortney Shane Williams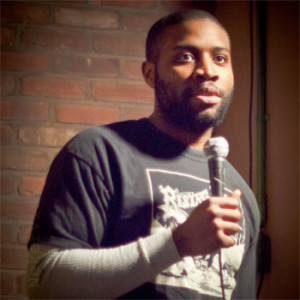 Kortney Shane Williams is an international touring comedian that currently considers Seattle, Washington his home. A master of satire, Kortney is known for igniting enormous laughs in audiences with an irresistible comedic presence thats smart, cerebral, and full of bravado. He's a regular on the festival circuit, performing at The Bridgetown Comedy Festival, Boston Comedy Festival, Laughing Skull Comedy Festival, and Bumbershoot Arts Festival.
He's consistently opened for big names such as Hannibal Burress, Mike Wilmot, Darryl Lenox, David Alan Grier, and Dave Chappelle – who, after witnessing Kortney demolish the audience, told him, "In the last 15 years I've never been nervous to follow a comedian until now."
Korntey Shane Williams has also appeared on CBS, Comedy Time at the Icehouse, and The 206 on NBC. His writing has been featured on Yahoo while his comedy sports blog Comedic Prose is regularly highlighted on FoxSports.com.
http://kortneyshanewilliams.com
Monica Nevi
Monica Nevi is a native of the Seattle area, having grown up about 20 minutes south in the glory that is Renton, Wa. The product of a wonderfully humorous family and diverse background, she went on to earn a degree from Seattle University and has lived in the city since going to school. A collegiate basketball player, after injuries ended her career she decided to move forward with the obvious next option for a women in her 20s and pursue her strong interest in stand-up comedy. After starting and performing for the duration of her time in college and beyond Monica has continued to perform all over the west coast with great comedians, in great festivals, in great competitions and continues to love it.
Monica has had the privilege of performing in the Bridgetown Comedy Festival and the Seattle International Comedy Competition as well as finishing first place in the Olympic Peninsula Comedy Competition. Opening for the likes of Jimmy Dore, John Roy and Sarah Colonna. Monica is a popular guest on podcasts and has been featured on many Seattle based podcasts as well as co-hosting her own podcast with Mike Coletta the Hug Life Podcast! (huglifepodcast.com)
Monica has appeared on FOX's nationally syndicated television show 'Laughs'. As well as Seattle based television programs 'New Day Northwest' and '[the 206]'