Comedy Underground News
Comedy News: Tyler Boeh CD Recording Session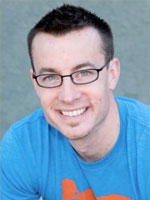 The last time I remember seeing comedian Tyler Boeh was in 2008. He was sharing driving duties with me of a huge Cadillac heading down Highway 101 to San Luis Obispo while Brent Weinbach slept the whole way in the back seat.
Tyler and I talked about a lot of things before he mentioned he was concerned about his relationship. He'd been away from home for weeks and his girl friend was upset after learning an old flame of his came to one of his performances.
My advise was that he should invite her to fly out from Boston for the weekend.
"But I can't afford it," he complained.
"Don't worry," I advised, "It's probably too short of notice for her but she'll appreciate the thought."
So he did and she couldn't and things were smoothed over. I felt like Dr. Phil that weekend.
May 3-6, Tyler will be in Seattle recording for Uproad at the Comedy Underground.
I hope he brings the missus along. I'd love to meet her.
-- Jonathan B. Fox, "supreme commander," The Comedy Underground