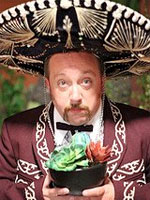 Live CD Recording
Derek is recording his first live album during this show!
When Derek Sheen was four years old, his mother gave him his first Lenny Bruce album. This bit of irresponsible parenting lead Sheen to a lifelong love of comedy and profanity.
For the past decade, Sheen has been entertaining audiences across America with tales of heavy metal singing gone wrong, his time at a Scientology summer camp and uncomfortable details about his sex life, performing with the likes of Reggie Watts, Brian Posehn, Robin Williams and many more funny people along the way.
For more details and unprovoked hilarity, go to his website: www.derektime.com.