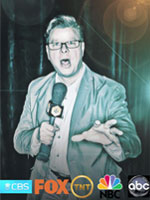 "Sherwood is fast on his feet with a motor mouth to match. Jokes, tall tales, life re-enactments, twisted observations and a continuous ongoing mania simply spew from him. His non-stop energy borders on the very edgy and there's often no telling what direction he's likely to head next. Its just part of what makes him so surprising and so entertaining."
-- The Seattle Times
Rodney Sherwood is a seasoned professional. It just happens that his profession is making people laugh.
A touring comedian for over 20 years, Rodney learned his chops and paid his dues performing and emceeing events across North America.
An Emmy award winning performer, Rodney was the 2011 Runner-Up in the Seattle International Comedy Competition. In addition to comedy, Rodney is an accomplished television and motion picture actor. He has been seen on, Leverage, Friends, and That 70's Show. Rodney recently finished filming the political comedy movie, 'Grassroots.'