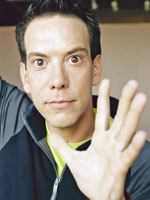 One Week after performing on the LATE LATE SHOW WITH CRAIG FERGUSON, hilarious Renton native Brooks McBeth returns to the Northwest to headline shows in Auburn and Tacoma.
Whether it's working as a staff writer on such hit shows as FOX's MAD TV, Comedy Central's TRIGGER HAPPY TV, CON, and ALMOST LIVE!Or performing stand up around the country, Brooks McBeth is one of those comedians who seem to find the line of decency and then stomps all over it.
Brooks has an edgy but yet still endearing style of comedy that has made him a favorite at every comedy club he performs in. Brooks continues to appear regularly in national television commercials and voice-overs, but it is on stage by himself where he is truly in his element.
Besides being Comedian Joel McHale's full time opener (The Soup& NBC's Community), Brooks has also performed with such greats as Frank Caliendo, Drew Carey, Harland Williams, Doug Benson and Jack Black to name a few.
Cast member on Dick Clark's Bloopers.
Stars in the feature film: Slumdog Virgin.
Touring nationally with Joel McHale.
Currently starring in national commercials for Honda, Big O tires and GameStop.
Guest starred this season on Disney's Wizard's of Waverly Place
Discovery Channel's Dirty Jobs with Mike Rowe.
Voiced Brutal Legend with Jack Black and Fox's new animated series Lost Cops.
Recently gave blood.