Description: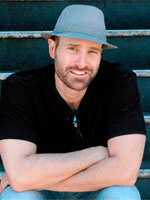 Sean Kent is a nationally touring headliner with multiple television appearances. Sean was a series regular on Last Comic Standing 3 where critics labeled his performances, "Daring and funny." It was Sean's appearance as one of the housemates on the original season of Last Comic Standing that first garnered him national attention as the show proved to be a smash for NBC, spawning two subsequent editions.
In 2005 Sean also released his first full-length CD, 'Sex, Drugs, and Politics', which was hailed as, 'An instant classic!' by XM RADIO and has been played on stations all over the country.
In addition to Last Comic Standing, Sean has written for or appeared on: The Bob and Tom Show (Nationally Syndicated), The Best Damn Sports Show Period on Fox Sports Net, Yes, Dear on CBS, Super Bowl's Greatest Commercials on CBS, Friday Night Videos on NBC, Filter on G4 TechTV, The Pamela Anderson Roast on Comedy Central, and the E! Entertainment Television Network.
Web site: www.seankent.com