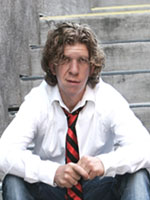 One of the funniest standup comics to see perform live, Kris Tinkle is a force to be reckoned with in the comedic world.
His relentless honesty made him a favorite on multiple USO Tours in Iraq, Kuwait and Japan, as well as inspiring his original live series "Steel Cage Comedy" and fight-funny podcast "Rabbit Punch Radio." Kris was featured on Howard Stern's "Meet the Retards" tour, and you can hear him on XM Radio. (Coming Soon: USO Japan, and Late Late Show, w/ Craig Ferguson).
His debut comedy album "Almost Awesome" was recently released on Rooftop Records and has garnered stellar reviews from critics and audiences alike.
http://www.facebook.com/kristinkle