Description: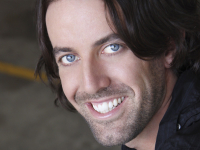 On August 3rd, 2000, Dan Cummins walked into a comedy club for the first time in Spokane, Washington and performed five okay minutes at the amateur night open mic. Five years later, Dan figured out how to write a decent joke and performed at the 2005 Montreal Comedy Festival's prestigious "New Faces" showcase. The next year he made his national television debut on "The Late Late Show with Craig Ferguson" and appeared on Comedy Central's "Live at Gotham." Then he wrote some jokes that were a little better.
Many of these jokes were filmed in 2007 at the Hudson Theater in New York City for his first half-hour special, "Comedy Central Presents Dan Cummins" -- a special voted by Comedy Central fans as 3rd best in the network's history in the 2009 Comedy Central Stand-Up Showdown.
In 2008, Dan performed on two episodes of NBC's "Last Comic Standing," including the semifinal in Las Vegas, where he did not move on despite receiving a partial standing ovation from the crowd. So Dan wrote some better jokes. These jokes got him a full standing ovation when he taped his episode of Byron Allen's Comedy.TV in 2009. He received another standing ovation at the end of his first one-hour stand-up special, "Crazy With a Capital F," which was filmed in front of a sold-out crowd at the Bing Crosby Theater in Spokane, Washington, and premiered on Comedy Central in 2010. These jokes also earned Dan his first appearance on the "Tonight Show with Conan O'Brien," where Conan plugged Dan's first nationally released CD, "Revenge is Near," available in stores and on iTunes. This CD was named one of the 10 best comedy CDs of 2009 by Punchline Magazine and made it to #7 on the Billboard Comedy Charts.
In 2010, Dan taped 10 episodes for season two of the "International Sexy Lady Show" on G4. He has toured relentlessly, performing at hundreds of colleges, comedy clubs, theaters and festivals, including the Aspen Rooftop Comedy Festival, the HBO Las Vegas Festival and Comedy Central's South Beach Comedy Festival. Dan has appeared on numerous nationally syndicated radio shows, such as "The Bob and Tom Show," where he has appeared over 10 times.