Description: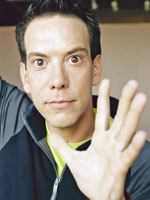 He's Back!!
A special night with national headliner and Comedy Underground favorite Brooks McBeth. He just completed his national tour with Joel McHale, we have him for one night of chaos and fun!
Instead of paying to see him at a big theater, come and get the up close feel of the Comedy Underground. This show is not to be missed.
Credits: Comedy Central, Wally Glenn's bat mitzvah, Almost live, Mad TV, Late Late SHow, Dick CLark's bloopers. If you're still reading, just come to the freaking show.