Description:
A cuddly mess of insecurities; Derek enjoys over-sharing about his personal failures, fears and, sometimes, the most intimate details of his secret thoughts. He also loves making audiences laugh, even when they feel like they shouldn't. A one of a kind storyteller, he is quickly becoming a favorite among comedy fans from all over the globe! He has toured with Patton Oswalt, Brian Posehn and his debut album "Holy Drivel" was recorded by iconic metal producer Matt Bayles (Minus the Bear, Mastodon, Isis) and is available from Rooftopcomedy.com. Lindy West of Jezebel.com has called him "A Human Hug".
CD Available At: http://shop.rooftopcomedy.com/album/holy-drivel
Description: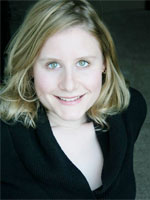 A classically trained actress and gifted comedian, Heather Thomson has the kind of performance skills that make you wonder, "Is that girl acting or just crying in public?" Growing up in Maine, she took the rural theater community by storm (I know, impressive). She continued studying theater, both design and performance, at Pomona College. In 2005, she moved to Los Angeles and started performing stand up nightly. Her uniquely honest, tender and endearing presence on stage quickly earned her the nickname, "The Sweetheart of Stand Up." In 2008 she won Best New Comer at the Southern California Comedy Scoomie Awards, and went on to win Most Adorable Comic the following year (yes, that is a real award and I took it by a landslide, thank you. Oh sorry, third person.)

She is also the winner of the That's the Light Comedy Competition, and a finalist in Uncle Clyde's and H2F's comedy competitions. Among many other venues, she has performed at the Hollywood Improv, the Upright Citizens Brigade Theatre, The Comedy Store, The Comedy Studio in Boston and with the People's Republic of Komedy in Seattle.

She has also studied Improv with the Upright Citizens Brigade Theatre and the world famous Groundlings. Frequently raw, poignant, sad, sweet, honest and hilarious, her act recently prompted one fan to ask, "You're really funny. Are you o.k.?" Heather is great, but she's so glad you're here to listen.