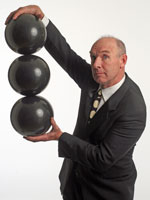 Comedian, juggler and ringmaster extraordinaire Michael Davis has corralled an energetic cast to create a premiere evening of comedy, circus and vaudeville.
Michael is an inspired deadpan comedian and the father of modern comedy juggling. He's a screamingly funny comedy juggler who projects a casual and contemporary personality that nails the audience.
For years he played the part of Chef Tad Overdone at Teatro Zinzanni in Seattle and San Francisco and was a touring clown with Ringling Bros. and Barnum & Bailey Circus.
He's currently creating a theatrical vaudeville show entitled "Out Of The Ordinary" with Mark Mitton and Vince Bruce.