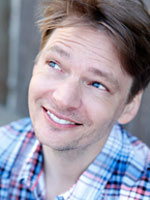 Joe is a square peg in a round hole sort of guy. Raised a midwesterner, so he has manners, but living in San Francisco for 20 years, so he thinks he's better than you.
Joe does two things great -- tells stories and talks to the crowd.
Joe has appeared on Comedy Centrals, "Live at Gotham", NBC's, "Last Comic Standing", Comentator for Emmy award wining documentary, "A Bridge so Far", Co-Creator of the critically acclaimed storytelling show, "Previously Secret Information".
Joe has also been a runner-up in the "San Francisco Comedy Competition" and a finalist in the "Seattle Comedy Competition". Voted "Best Comic" in the 2011 SF Weekly Readers Poll.
Joe has performed at every major comedy club in the country, including Alaska and is a regular on the Bay Area Comedy Scene.