Description: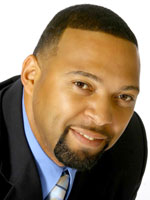 Born and raised in one of the toughest neighborhoods in South Los Angeles in Watts, CA at the Nickerson Gardens, Adrian "Adee" McCovy is a comedian, actor, producer, and host. Adee's Comedy roots began since he was old enough to talk, but his art form derived from his experiences in the streets of Watts, CA.
Adee always had a love for comedy. His uncles told him knock, knock, jokes, or just funny stories. He was a real practical joker, and was not afraid to play The Dozens with kids or your momma jokes. This was part of growing up in the streets of South L.A. Soon he began to act them out and they became even funnier that's when they started calling him "Funny". He was nicknamed funny by his Uncle Wayne.
Adee is a versatile entertainer as he can connect with audiences of all ages. You will find him performing at Comedy venues, fundraisers to help our youth, corporate events, or at colleges/universities throughout California. Adee is a multi-talented entertainer where his roots have been his motivation to inspire others through Comedy.
He has performed on stage at the Improvs', Laugh Factory, Comedy Store, Cobb's Comedy Club, Rio in Vegas, Uptown Comedy Club in Atlanta, GA, and many more. He is founder of OMG Comedy, and The Laff Lounge.