Description: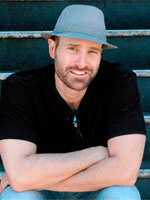 Critically acclaimed standup comic and winner of the prestigious San Francisco and Seattle International Comedy Competitions, Sean Kent has been praised as having "an urgency not seen in comedy since the likes of Bill Hicks." The Austin, Texas native is currently performing his hard-hitting socio-political comedy to packed houses worldwide, and has appeared on NBC, CBS, E!, Comedy Central, Showtime, Fox Sports Net, VH1, and more.
A two-time cancer survivor, Sean also works to raise awareness by speaking and performing at a variety of annual charity events including the Cancer for College Fundraiser with Will Farrell and the City of Hope Bone Marrow Transplant Reunion.
Sean's recently released album "Waiting for the Rapture" was hailed as "brilliant" by Laughspin Magazine and can be heard on XM / Sirius Radio and Pandora.
Recent Albums
Description:
Tina Kim started her comedy career in New York City. She self produces her own stand up comedy shows across the nation. The Boston Globe says, "Go tonight", CNN Says, "She's one funny lady." Tina blends her humor with stories about growing up in America, her wacky family, dating and so much more and has been featured on NBC's Last Comic Standing, CNN, VH-1, The Insider and Comic's Unleashed.