The 3rd Annual Comedy Friendraiser for the Seattle Community Law Center
Bill Cosby said "you can turn painful situations around through laughter. If you can find humor in anything, even poverty, you can survive it." We use the tools of legal advocacy to help people with disabilities facing the risks and realities of homelessness overcome barriers to economic and medical stability.
For the third year, we will be merging Bill's approach with ours in one great event. Come celebrate with us, and listen to Joe Vespaziani and Drew Barth.
About Seattle Community Law Center
The Seattle Community Law Center is a legal aid organization dedicated to providing high-quality Social Security and SSI representation to the people who need benefits the most and are least likely to secure representation due to barriers preventing them from accessing the justice system.
We are committed to providing the accommodations and tailored services needed to overcome these barriers, help our clients keep their benefits claims on track, and secure the the evidence needed to support a successful claim.
About Drew Barth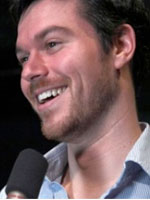 I'm a stand-up comic living in Seattle with a dream and a food handler's permit. Started doing stand-up roughly seven years ago when I was in a sketch comedy group in high school and my teacher suggested I try writing stand-up for the talent show. I figured that high school wasn't full of enough opportunities to lower my self-esteem, so I gave it a shot. It ended up going alright, not great, but not so terrible that I'd never want to try it again. When I started going to the University of Washington, I started hitting open mic nights. There I discovered my inner voice/drinking problem that I wanted to share with other people and impress girls with at parties. Also discovered that girls never go for the funny guy at the party. Since then, I've gotten to work with a great group of people in the Seattle comedy community as well as open for some big comics like Nick Swardson, Jim Gaffigan and Greg Behrendt. I'm trying to make the transition from being a hobby comic to that of a career comedian. I work quite clean so my shows are for the most part all ages. I have worked colleges, corporate events, casinos and one very lucky Masonic lodge hall. I'm in the midst of building an email database to let people know when I have shows coming up, so if you prefer not to get your news sandwiched between bulletins titled "67 Things About Myself" and "Check the video of my drunk roommate trying to make it with a horse,".
About Joe Vespaziani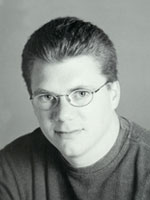 Joe Vespaziani began his professional comedy career in 1989 and has been a busy and consistent performer ever since. Highlighted achievements include: release of CD: Ribbed 4 your pleasure ('04), Seattle International Stand-Up Comedy Competition winner ('98), Almost Live new years eve appearance (98), opening act for "Weird Al" Yankovic Touring With Scissors ('00). Joe also hosted a TV pilot for Gaslight Alley productions called REEL PLACES. In addition he has written and performed two one-person sketch shows and is scheduled to release his second CD: "Thank you very much... enjoy the headliner" – Dec '11.
Described as a 'stand-up story teller' Joe performs all over the United States, Canada (and the world on cruise ships) with a smart, conversational style - making him a favorite among comedy fans and peers. Joe is known as a prolific writer and has contributed material for other comedians as well as 12 short fiction pieces published with VEX magazine. He has a solid headlining act that is well suited for private and corporate events - received enthusiastically by both young and old wherever he is booked.
In his latest project - "The Ultra Laugh Lounge" Joe has teamed up with headlining comedian Duane Goad in a two man - live - interactive - 60's style - late night talk show. This show is THE show corporate and private events will want to book again and again.