Description: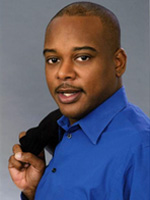 Growing up in rural North Carolina, (shirt and shoes optional) Tony Daniel learned that the line between tragedy and comedy is blurred at best. As a barefoot youth, he found that the best remedy for a stubbed toe was a quick wit and a hearty laugh; and that there is NO ONE or NO THING above or below mockery.
At eighteen, thanks to the US Navy, Tony became a world traveler, visiting Europe, Mexico, the Caribbean, and even the Bronx. In 1992, he moved to Atlanta. In 1996, he moved to Seattle where he currently resides.
Tony Daniel has been a favorite on the Northwest comedy scene since he began performing professionally in 1997.