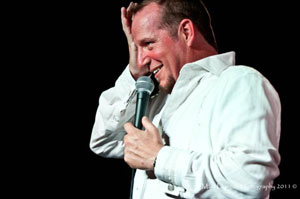 Hunter S. Thompson may have described Toby Roberts best when he wrote "There he goes. One of God's own prototypes. Some kind of high powered mutant never even considered for mass production. Too weird to live and to rare to die." The Tacoma News Tribune has called him "The Bad Boy of Comedy in the Puget Sound" a moniker Toby lives up to in spades. As a headliner, Toby is a mainstay on the Seattle/Tacoma comedy scene.
Toby's "story teller" style has rapidly become a favorite of comedy fans of all backgrounds. Toby is the 2009 "Destination Vegas" Comedy Competition winner, and the champion of the 2012 Shades of Laughs International Comedy Competition. Toby is also a "fan favorite" of our military service men and women over seas, most recently in Japan.
His style is both charming and engaging. The subject matter is always current and heart felt, and the audiences always leaves wanting "one more story"...
"If you are a fan of Louis C.K., Bill Burr, or Ron White, Toby's show should not be missed. Toby Roberts is one of Tacoma's rising stars."
-- Tacoma Weekly