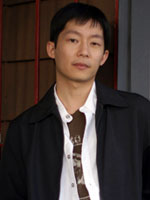 Xung Lam is a young comedian from Seattle who is quickly becoming an audience favorite all across the Northwest. His jokes and stories are sharp, cunning, and creative. With his quick wit and easygoing delivery, the laughs are never far behind.
Xung loves to write and loves to laugh. He found that doing stand-up was a great way to combine those activities while pissing on his Physics/Astronomy and Graphic Design degrees. Starting out as a comedy writer, Xung was reluctant to start his stand up career in 2007. But then he remembered the wise words of his Dominatrix: "What's the Worst that Could Happen?" She hit him hard, with those words. It really left a mark. Now, four years later, Xung takes to the stage all over the northwest with comedy that is both silly and sincere. Powerful and sweet, much like Mistress Midnyte.
"His set is spotless and packed with jokes that effortlessly leap through themes of race, robots and self-deprecation without leaving the audience behind."
- Corbett Cummins, KEXP "Where the Funny Matters".
"Lamís art is unexpected and absurd. Lam likes to make observational jokes that ridicule the quirkiness of society, with fast, unexpected punch lines."
- Peter Tran, International Examiner