Tacoma Comedy Underground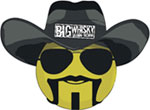 Comedy Underground
at Big Whisky Saloon
100 S. 9th Street
Tacoma, WA 98402
(253) 272-2489
BUY TICKETS NOW
Tacoma Calendar
Food Menu
Directions to the Club
Contact Us
Twitter Updates
follow me on Twitter
About Tacoma Comedy Underground
Comedy Underground is the premiere comedy club for Tacoma. Located at the Big Whisky Saloon, we feature national and regional headliners.
Show times are 8:30 pm Thursday, Friday and Saturday with a 10:30 late show on Saturday. You must be 21 years or older and ID is required.
Tickets for Tacoma Comedy Underground shows can be purchased online through TicketWeb. The box office opens thirty minutes before a show. We highly recommend buying tickets in advance.
The Tacoma Comedy Underground is located at Big Whisky Saloon in downtown Tacoma. The address is: Comedy Underground 100 South 9th Street Tacoma, WA 98402 For more information, call (253) 272-2489.