Comedy Underground News
Comedy News: Derek Sheen's New Album is funded entirely through Kickstarter
The Comedy Underground has become the go-to club for media recordings for comedians producing live comedy media.
Derek Sheen will be the first one that is entirely funded by fans.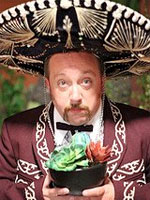 Sheen's plan for "Holy Drivel" is to create a unique package, both artistically and audibly, by utilizing the talents of hard rock producer Matt Bayles (Mastodon, Isis, Minus the Bear) and cartoonist Mark Allender. His goal is to create a project that not only captures his live act, but also his fondness for loud music, art and the spectacle of a big production!
Other recent recordings include Tyler Boeh, Saleem, Robert Duchaine, with additional recordings by Doug Stanhope and many others. We will be announcing future recordings as soon as we can schedule a date.
Sheen's Kickstarter project is paying for a sound engineer, a production team, editing, mixing (sound and video), mastering, duplication, art and layout design as well as a video of the show.
Sheen first visited the Comedy Underground when was 13 years old. It was the first club where he performed at an open mic. He has dreamed about headlining the stage for 29 years and the dream is finally coming true.
Good luck Derek!
http://www.derektime.com
http://www.facebook.com/dereksheen
http://www.kickstarter.com/projects/1797316107/holy-drivel-a-live-comedy-album-by-derek-sheen